HoemPro Energy Audits
Save up to 40% - 50% on your energy bills
Schedule an energy audit today and begin the savings.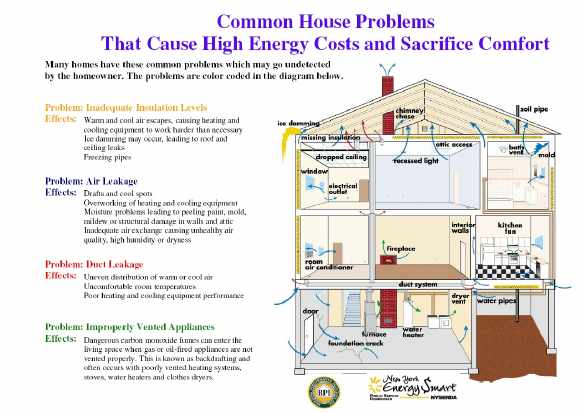 Home Performance Program (For Existing Homes)
Problem Does your home have one or more the following problems?
· High energy bills

· Drafty, cold or uncomfortable rooms

· Frost, Condensation, roof ice

· High or low humidity

· Unexplained dust, mold or insects

· Freezing pipes
What To Do?
Call now for a home Energy Audit to evaluate dozens of ways to improve you home's energy efficiency. You will receive a report that includes costs and "returns on investment" for numerous items that can be addressed in your home including:
· Air sealing

· Duct sealing

· Upgraded attic insulation

· Lighting and Appliances

· Window and door evaluation

· HVAC evaluation

· Foam sealing

· Weather-stripping

· Proper ventilation
HomePro is certified through the Building Performance Institute.
High energy bills, drafts and rooms that are too hot or too cold are all common issues for homeowners. Additional problems like ice damming, humidity, mold, allergens or infestation can also be symptoms of an energy-obsolete home. Installing a new heating or air conditioning system, buying replacement windows, or adding more insulation may fix part of the problem. But far better results can be had with an integrated "whole-house" approach that looks at your house as a system as recommended by the U.S. Department of Energy. By applying building science, you can save up to 40% on energy costs while helping the environment, lessening dependence on foreign energy and making your home more durable, comfortable and valuable!
At HomePro, we are Building Science professionals - we inspect and test your home with diagnostic tools like a blower door, test and asses combustion appliances, measure and use special software to recommend cost effective comfort and energy upgrades for your home in accordance with BPI requirements. You can confidently choose energy saving improvements whose financial pay-back ranges from one to ten years and that may also qualify for tax credits (please check with your accountant).
Upgrading energy obsolete homes also increases resale value. According to the National Association of Realtors, savvy home buyers ask for both tax and energy bills when comparing prospective homes. And on average, every dollar spent on energy improvements brings an additional $25 at resale time!
Home Performance with ENERGY STAR, a national program from the U.S. EPA and U.S. DOE, offers a comprehensive, whole-house approach to improving energy efficiency and comfort at home, while helping to protect the environment.
HomePro can help you cost effectively improve your home's energy efficiency, comfort durability and value. We are specially-trained contractors that evaluate your home using state-of-the-art equipment and recommend comprehensive improvements that will yield the best results.
Diagnosing the Problem
Rather than focusing on a single component, such as single-paned windows, an old air conditioning system, or leaky ductwork, we assess how improvements to all of these components can work together to provide:
Fewer drafts and consistent temperatures across rooms, improving your comfort
Improved indoor air quality with better ventilation and humidity control, and
lowered utility bills
Common Recommendations
Sealing Air Leaks and adding additional insulation while maintaining adequate ventilation and interior air quality.
Many air leaks in homes are fairly obvious, such as around windows, doors, and electrical outlets. But others, like those in attics, around chimneys, and through thermal bypasses, are often the more significant sources of energy loss in a home. Sealing air leaks is critical to improving the overall efficiency of your home and will make your heating and cooling system perform better, provide improved comfort and lower operating costs.
The Energy Star Home Sealing program prescribes first sealing leaks, then adding to insulation. For example, in our climate zone, the U.S. DOE now recommends R-49 insulation levels in attics. Many homes are not well-insulated, and some have improperly installed insulation. Properly installed insulation in walls, floors, and attics provides for more even temperatures throughout the house and results in a quieter, more comfortable living environment that is easier to heat and cool.
Sealing Ductwork
Many homes have leaky ductwork and poor air flow, resulting in uncomfortable rooms and high energy losses — regardless of the thermostat setting. We check your ductwork to determine their leakage of conditioned air to the outdoors. Air sealing and insulating ductwork in areas outside of the building envelope like attics, crawlspaces, and some basements will ensure your home is more comfortable and efficient.
Common home owner problems
· High energy bills
· Frozen pipes
· Rooms that are too hot or cold
· Drafty, uncomfortable rooms
· High or low humidity
· Frost, condensation, roof ice
· Unexplained dust, mold or insects
· Freezing pipes?
Home Owner Energy
Performance Program
Energy Audit
Evaluate dozens of ways to improve your home's energy performance. Get a detailed report that includes costs and "returns on investment" for numerous items that can be improved in your home. Click here for a sample home energy audit.
Air Sealing
Blower door assisted air sealing
Seal and insulate ductwork
Window and door evaluation
Insulation
Upgraded attic insulation
Basement insulation systems
Thermal bypass repair
Insulation Comparison
Feature

Cellulose
(Dense Pack)

Fiberglass Batt

Icynene Foam

Notes

R-Value per inch

3.8

2.1-3.2

3.6

100% Green

YES

NO

NO

(‡ foot note)

Recycled Content

Over 82%

Up to 25%

None

Install w/o gaps, voids

Yes

No

No

Fiberglass has gaps, Foam has voids in bulk installations

High Performance

YES

NO

YES

Sops air infiltration, fills voids and gaps.

Stops Air Infiltration

YES

NO

YES

Off Gases

NO

YES

YES

Fiberglass - formaldehyde, Icynene - isocyanates

Fireproof Class "A" Rated

YES

NO

NO

Cellulose has no burn rate, no smoke when exposed to flame.

Fill Gaps and Voids

YES

NO

YES

Low Embodied Energy

YES

NO

NO

Manufacturing energy costs. Cellulose is less than 1% of competition.

Potentially Hazardous

NO

YES

NO

Fiberglass contains formaldehyde, arsenic and other irritants

Hygroscopic†

YES

NO

NO

Absorbs and wicks moisture away from other building materials.

Easy to Remove

YES

YES

NO

Settles/Sags

N/Y

NO

NO

(* foot note)

Closed Cavity Install

YES

NO

YES**

Foam products require numerous install penetrations.

Vermin Proof

YES

YES

NO

Insect Proof

YES

YES

NO

Mold/Fungus Proof

YES

YES

NO

Perfect Fit

YES

NO

YES

5% gappage will increase energy usage by 52%

Easy to retrofit (wiring/plumbing)

YES

YES

NO

Distorts Jambs/Framing

NO

NO

YES

Expanding foams force on areas of installation.

Zero Waste Factor

YES

NO

NO

Stops Convection

YES

NO

YES
*Dense Pack Cellulose installation typical in walls and ceilings cannot settle because it is installed under pressure to a high compaction factor typically 3.5 lb/cf. Loose Fill cellulose typically installed on attic floors will experience a small degree a settlement however this in NO way reduces the total R-Value or performance of the cellulose.
**Foam insulation in retrofit cavity fill applications typically requires more frequent penetrations to achieve the same coverage as Cellulose.
†Hydroscopic: Materials that absorb and transmit moisture. This is advantageous for insulation that stops airborne
‡A "Green" building material may have any of the following attributes: contributes to high energy efficiency, recycled, renewable, organic, devoid of synthetic additives, or locally produced. Only Cellulose has ALL of these "Green" attributes.
1. What is a blower door test?
A blower door test locates and measures the amount of air infiltration entering the home. A large fan is installed on an exterior door of the house and depressurizes the space. Exterior air through atmospheric pressure is then naturally forcing back into the house through "leaky" passageways. Using "artificial smoke", touch, or infrared camera technology, places of air entry are revealed.
2. How long does the home energy audit take, and should I be at home?
Two to three hours. Although it is not necessary for you to be present for the on-site process, it is encouraged. Full access will be needed to basements, attics, crawl spaces, and all other areas.
3. Should I prepare the house in any way prior to the inspecting?
During this time, it is helpful if you prepare the home for the tests by closing all windows and storm-windows and making all attic and crawlspace hatches accessible. All ceiling light fixtures should be turned off for better thermal imaging; lamps are fine to have on if desired. All fireplaces and woodstoves should be cleaned of off. Please locate pets in a safe place.
4. How much does Home Energy Diagnostics charge for their blower door testing services and analysis?
An average of $500, more or less depending on the size of the house. This includes testing and a 7-12 page detailed home report with recommendations on improvements, which arrives by mail a week or so after testing.
5. Do you do the work that is recommended?
No – And this is important. We don't have services or products to sell to you. You will get a completely unbiased audit and report recommending what is best for you, not what we have to sell you.
6. How soon can I expect a payback for my investment?
After we perform an audit, we enter all of our findings and data from your home into our auditing program. Based on our recommendations for improving a home's performance, we will list the cost to do a particular item and the software will calculate the amount of time that it would pay for itself in terms of energy savings.
7. Can I finance this work through the any state or federal agency, and are their tax credits given?
Yes, there are several ways to get aid.
9. How does infrared camera work?
An infrared camera is a non-contact device that detects infrared energy (heat) and converts it into an electronic signal, which is then processed to produce a thermal image on a video monitor.
10. What is an artificial smoke pencil?
A device that emits harmless colored air that visibly reveals air drafts.
11. What is exfiltration and infiltration?
Exfiltration is the movement of air from inside the house to the outside. this occurs primarily in the attic where air is being replaced by air infiltrating the house from the basement. this sandwich dynamic is known as the stack effect.
12. Why test for carbon monoxide (CO)?
Carbon monoxide (CO) is a deadly, odorless, colorless byproduct of incomplete combustion. Gas-fired water heaters, furnaces, stoves, fireplaces, and other combustion appliances produce carbon monoxide. Due to efficiency limitations, certain CO levels are expected and should be properly vented. As part of the energy audit, carbon monoxide levels are checked at several locations in the home. High level readings are noted in the report and could be an indication of backdrafting, improper burner adjustment, cracked heat exchangers, or other issues.
Scheduling a comprehensive home assessment to find out where money is escaping from your home is the first step to savings. In addition to reducing your energy costs monthly, you can increase comfort by addressing heating / cooling issues room to room, and at the same time make your home more durable, livable and environmentally friendly. Ventilation is another area in which we can ensure a continuous supply of fresh air to eliminate odors and indoor pollutants while saving you money. Plus you get the added benefit of greater peace of mind and confidence knowing that Home Energy Diagnostics, LLC is accredited by the Building Performance Institute to do the job right. What's more, financing is available through to help with repair costs. With energy prices soaring and environmental issues at the forefront of today's news, now is the time to act!
So why not start the process by scheduling a home energy audit today.